OPEN CALL: Smartphone Video Art Residency with Roxy Farhat
June 06, 2020 - August 08, 2020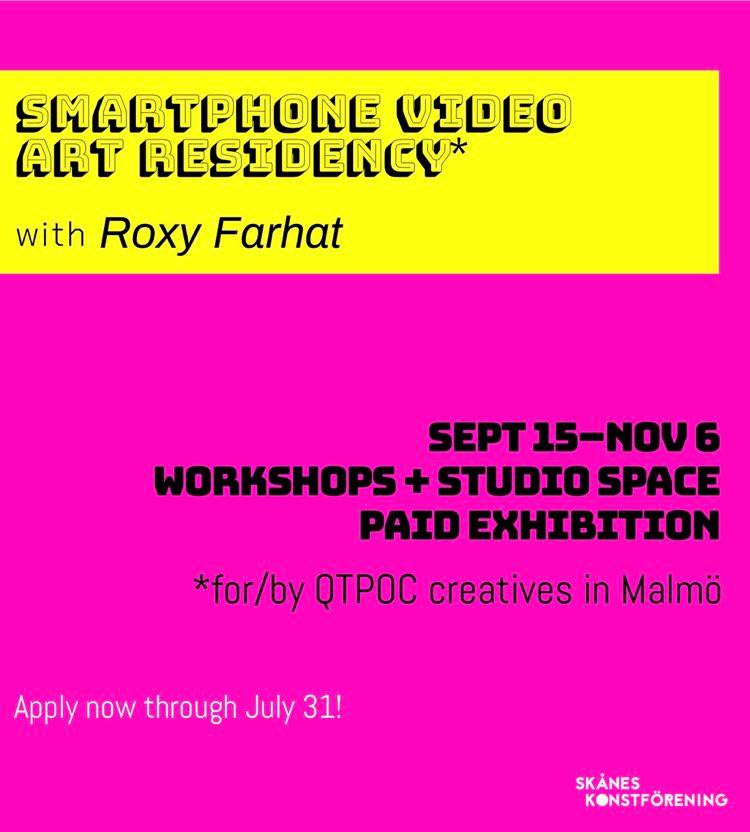 Are you curious about expressing yourself through video and art?
Do you have a smartphone or tablet that you can use for filming and editing?

This autumn, Skånes konstförening will host a residency with artist and filmmaker Roxy Farhat! From documentary to video and performance, Roxy has used her work to explore themes of anti-racism, intersectional feminism, and community engagement.

From September 15–November 7, participants will have the chance to work with Roxy to develop their creative vision and technical skills.

With this residency, we want to encourage new creators and people who might not have made art before. While all are welcome to apply, we hope to create a space especially for creative queer people of color in Malmö.

We will select up to 5 participants for this 8-week residency. Each participant will create a video artwork based on the prompt: future & power. (Explore it however you want!) Participants will use their own smartphones for filming and editing.

The resulting video artworks will be exhibited in a group exhibition at Skånes konstförening in November—alongside the works of Malmö-based established artists! Each participant will receive 4000 SEK in artist fees for the final exhibition.

Anyone living in Malmö with a smartphone or tablet is welcome to apply!

Apply here:
https://docs.google.com/forms/d/e/1FAIpQLSfOk0owA_gxW3Cs-XFs8VDzZdmP7bull9N1io2VSQq1ZqP2-Q/viewform

Got more questions? Email us at info@skaneskonst.se. Type "RESIDENCY 2020" in the subject line.

Application deadline: July 31, 2020
Scroll down for more details!
DETAILS:

Timeframe: September 15–November 7, 2020

Format:
3 extended group workshop sessions with Roxy Farhat
1 individual detailed feedback session with Roxy Farhat
Weekly feedback sessions with C. Grace Chang (curator), Albin Hillervik (director), and Janneke Schoen (coordinator)
Group exhibition at Skånes konstförening
Each participant will receive 4000SEK in artist fees for the final exhibition.
Language:
Instruction will be in Swedish and/or English, depending on the needs of the group
Requirements:
Smartphone or tablet capable of filming and editing. Skånes konstförening will provide necessary apps.
Resident of Malmö municipality
Prompt: Future & Power
What are they to you? What do you want them to be? What could they be?
How do you feel about power and the future right now?
This prompt is just a starting point for wherever you want to take your work. It's not about making a literal narrative, place, or time. Some of you might want to explore feelings. Others might focus more on imagined places. Or maybe your approach is totally different! There's no right or wrong way. We're here to help you form your vision, support your creative process, and develop your skills.
Accessibility & COVID-19 measures
We care about your health and safety, as well as your artistic growth! Participants can choose to work 100% remotely, but we will also set up a dedicated work room at Skånes konstförening. This room will be available during working hours. If needed, the elevator entrance is just a few meters to the left of the main entrance.

We will continue to follow all recommendations from the Public Health Agency of Sweden (Folkhälsomyndigheten). If closure is recommended, then we will proceed 100% remotely. In this case, the exhibition will only be accessible to the public via our website and social media—though we will definitely play with the format.

Skånes konstförening's exhibitions and programs are supported by Malmö Stad, Region Skåne, The Swedish Arts Council, and ABF.