Something Happened. Temi Odumosu: The Beautiful Struggle
April 04, 2019 - April 04, 2019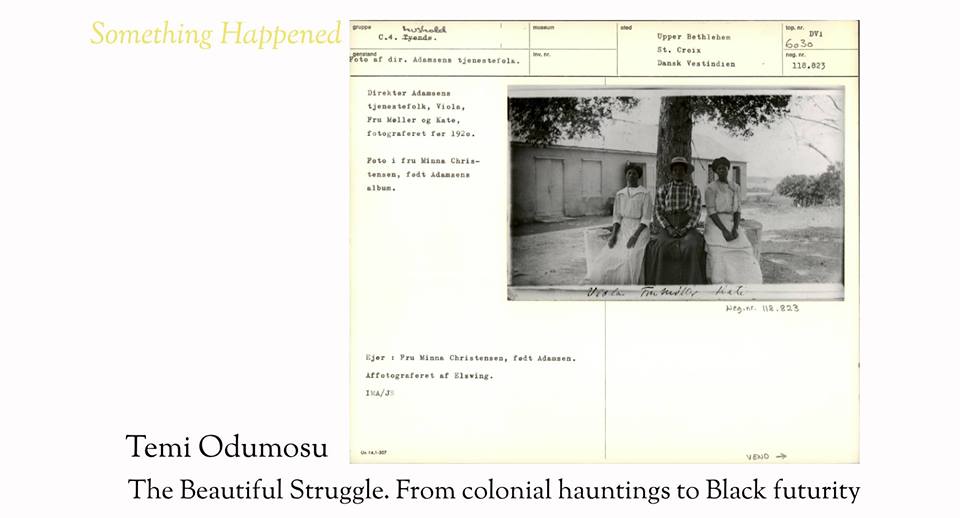 The Beautiful Struggle
From colonial hauntings to Black futurity
Lecture by Temi Odumosu
April 27, 4pm
Skånes konstförening, Bragegatan 15, Malmö

Statement of the lecturer:
"What is the tense of a Black feminist future?" This is a question posed by Tina Campt in her seminal book Listening to Images (2017), and it has provoked new ways to engage in curatorial work and artistic research focused on the archival traces of slavery and colonialism. Exploring themes of visuality, absence, care, mattering, and tension, this talk returns to critical moments from practice in a Nordic context; and it considers what happens and "that which will have had to happen" in the efforts to heal from history and foment change.

Temi Odumosu is an art historian, curator, and senior lecturer at
the School of Arts and Communication (K3), Malmö University. She is the author of "Africans in English Caricature 1769-1819: Black Jokes, White Humour" (2017). Her international research and curatorial practice are concerned with the visual and affective politics of slavery and colonialism, Afro-Diaspora aesthetics, decolonial praxis and pedagogy, archival re-enactment(s), critical strategies for digitisation, and more broadly exploring how art mediates social transformation and healing. Recent curative interventions in Scandinavia include: What Lies Unspoken: Sounding the colonial archive (National Gallery & Royal Library of Denmark, 2017-2018); Milk & Honey (Botkyrka Konsthall, Sweden, 2017); and Possession: Art, Power & Black Womanhood (New Shelter Plan, Denmark, 2014).

The lecture will be held in English.

Something Happened is a series of readings, lectures and talks focusing on excavation and redress through showcasing powerful creators of disturbances in the overarching linearity of Europe-centric and West-centric discourses about history and the present.

The Something Happened series is organised and curated by Tawanda Appiah and Simona Dumitriu.

*Archival Image credit: Director Adamsen's servants, Viola, Mrs. Møller and Kate, photographed before 1920. Photograph in Mrs Minna Christensens (born Adamsen) album. Photographed by Niels Elswing. National Museum of Denmark.


Skånes konstförening's public program and exhibitions are presented with support from Region Skåne, Malmö Stad, Swedish Arts Council and ABF.