SMiSK, Handle och STUDY Circle
December 12, 2018 - December 12, 2018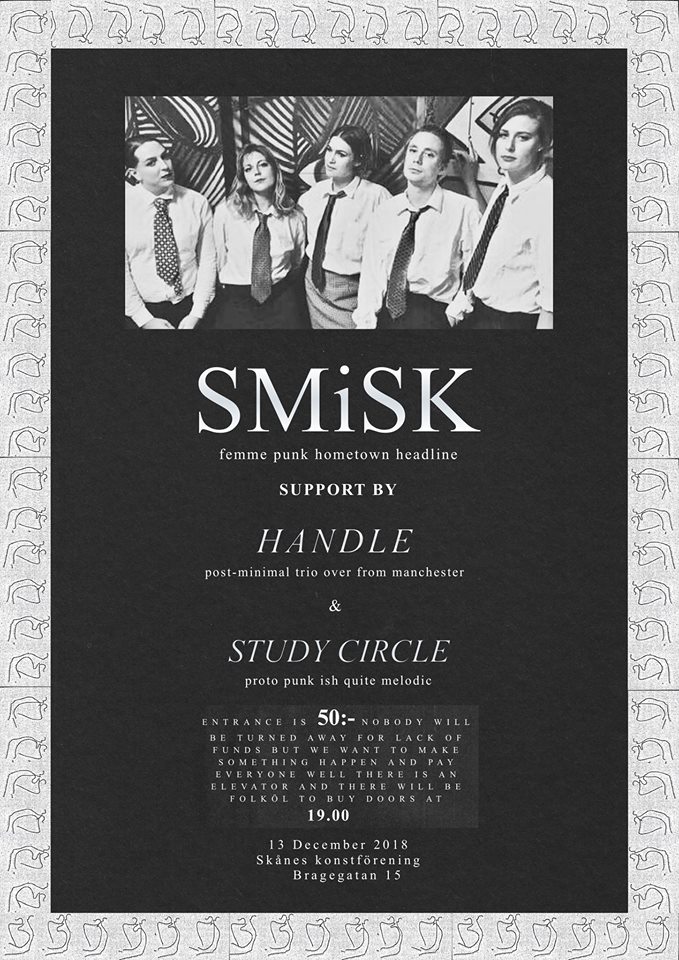 SMiSK, Handle (UK) and STUDY Circle
13 December 2018, 7pm
Skånes konstförening, Bragegatan 15, Malmö
SMiSK
Femme punk outfit with the desire to transgress macho punk with their cathartic noise.
https://smisk.bandcamp.com/
Handle (UK)
Manchester based project featuring members of D.U.D.S. and B.E.T.H, offering post-minimal trashy samba.
https://absolutefiction.bandcamp.com/album/handle-demonstrations
Study Circle
An actual studiecirkel trying to zero in on what music they want to make, so far they've made some proto-punk, some space-rock, one doom jam, a pretty pop song and a melodic jam about surviving the bubonic plague.
http://studycircle.bandcamp.com/
This show is done in collaboration with MATERNAL VOICE, Stockholm based record label (https://maternalvoice.bandcamp.com/).
DJ Rizzolo will sculpt the aural atmosphere between bands and a little after.
There is an elevator should you require, but probably good to contact us on the day to check its functioning correctly to avoid disappointment.
Toilet is spacious but not necessarily fully-equipped, the sink might be a bit high.
The bar serves folkol.