Futures 1 (You've never seen the lonely me at all)
March 03, 2019 - March 03, 2019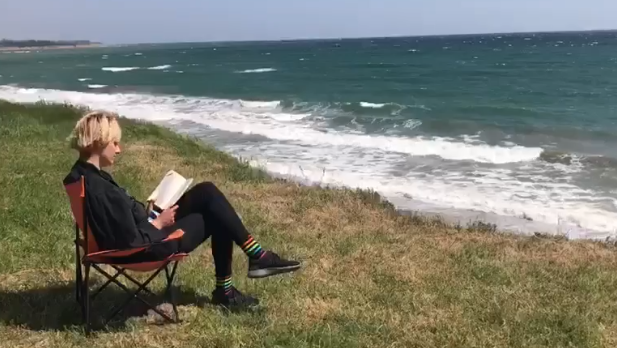 Friday, March 1, 6 pm: Valentina Iancu, talk: My Queer Museum of Eastern European Culture
Futures 2 (March, exact date to be announced): Ines Lukač, lecture performance: BIOPHILIA of Transfemme, Islam, and a Need to be Loved

Valentina Iancu, talk: My Queer Museum of Eastern European Culture:
· I am not good with titles. It's because I'm too nerd to be cool.
1. The loneliness of the weirdo beginner. Twenty something blockbuster curator
Starting my first job, at 23, at the The National Museum of Art of Romania forced me to challenge my gaze. A fresh art historian, with very few contacts with any radical idea about anything (related or not to the art world). I could not blend in. I could not even try to blend in. My first task was to make an audio-guide for the National Gallery. It is a task that I didn't accomplish, until today. Because when I started writing my first "big story" about Romanian modern art, I realized how many categories were left outside. How incoherent is the story told by the National Gallery. A chronology of shapes, colors and beautiful images, for certain standards. Too boring to be true. A primary goal in that museum was to challenge the notion of "greatness" and make more space for those left behind. I was not consciously aware of what I was doing exactly. As I had no vocabulary. And around me I could not find any answer, as most of my colleagues were part of that place. No one was interested to look forward. To make more space. And it worked in a sense that I did not anticipated: influencing the small Romanian art market rather than the cultural thinking. The market was more interested to sell more names, so any discovery shown at the National Museum is good. Living a queer life made this game to look more and more plastic. Being alone with principles in a conservative institution is not necessary a form of cultural resistance, it is rather a naïve illusion. (this is a long story that I will adapt with my memories. I will not prepare, just let it flow, speaking about some of the exhibitions and work I did in that museum).
2. When knowledge brings queer loneliness
A few years ago I dreamed an incredible dream: I was attending the curatorial board meeting of the recently open Queer Culture Museum in Bucharest, located in a XIXth century house in the old city of Bucharest. The topic of the meeting was building a new art pavilion in the crossroads of Grivita Street and Dacia Boulevard, that would integrate the ruins of the public toilet (used often as space for clandestine meetings between homosexuals, during communism). Since this dream I begun researching into the local LGBT history, trying to connect it to similar contexts within Central and Eastern Europe. I often think how to use my 10 years of experience in the National Museum of Art of Romania for making this dream a reality. Can it be real in the Romanian local context? I'm afraid not, or not now.
The second part of my lecture will consist of briefly introducing some "icons" of queer art, practices and strategies from Central and Eastern Europe.

Valentina Iancu is a feminist writer, activist and independent researcher, with a background in art history. She signed curatorial projects both on modern and contemporary art with a political touch, looking for those left outside from the "official" history of art. She researches queer eastern European art, feminist practices to challenge art museums, and outsider art.

Ines Lukač: BIOPHILIA of Transfemme, Islam, and a Need to be Loved
The biophilia hypothesis suggests that humans possess an innate tendency to seek connections with nature and other forms of life. In her lecture performance, Ines Lukac explores the three life stages of her personal, activist and academic road of becoming affiliated with her true Nature: a) a physical correction of her material body in order to express a femme Ines, b) a spiritual biophilia expressed in the mindful doctrines, queering the religious postulates, and emphasizing the importance of Rumi's soul, and c) a need to be loved by her fellow human beings and how the abundance or lack of it affects one's personal development.
(NOTE: A physical biophilia of Ines prevailed on this 1st of March and it is shamefully mashed in the precarious neoliberal plasma of Swedish healthcare system: Ines has just learned that she will have a medical examination for her vaginoplasty for which she will have to wait 6-9 months otherwise).

Ines Lukač is a sociologist and gender studies scholar who started her endeavour in Sweden as a master student in Gender Studies at Lund University. Her research is mostly related to the transgender community and to sex work studies. Her activist work is embodied in a board membership at RFSL Ungdom, as well as through her work at Fuckförbundet. As a performative practitioner, Ines also works as a DJ and performer at Secret Garden, the largest queer club in Stockholm.
Skånes konstförening's public program and exhibitions are presented with support from Region Skåne, Malmö Stad, Swedish Arts Council and ABF.