Art Ohlsson – Supermarket 2011
February 02, 2011 - February 02, 2011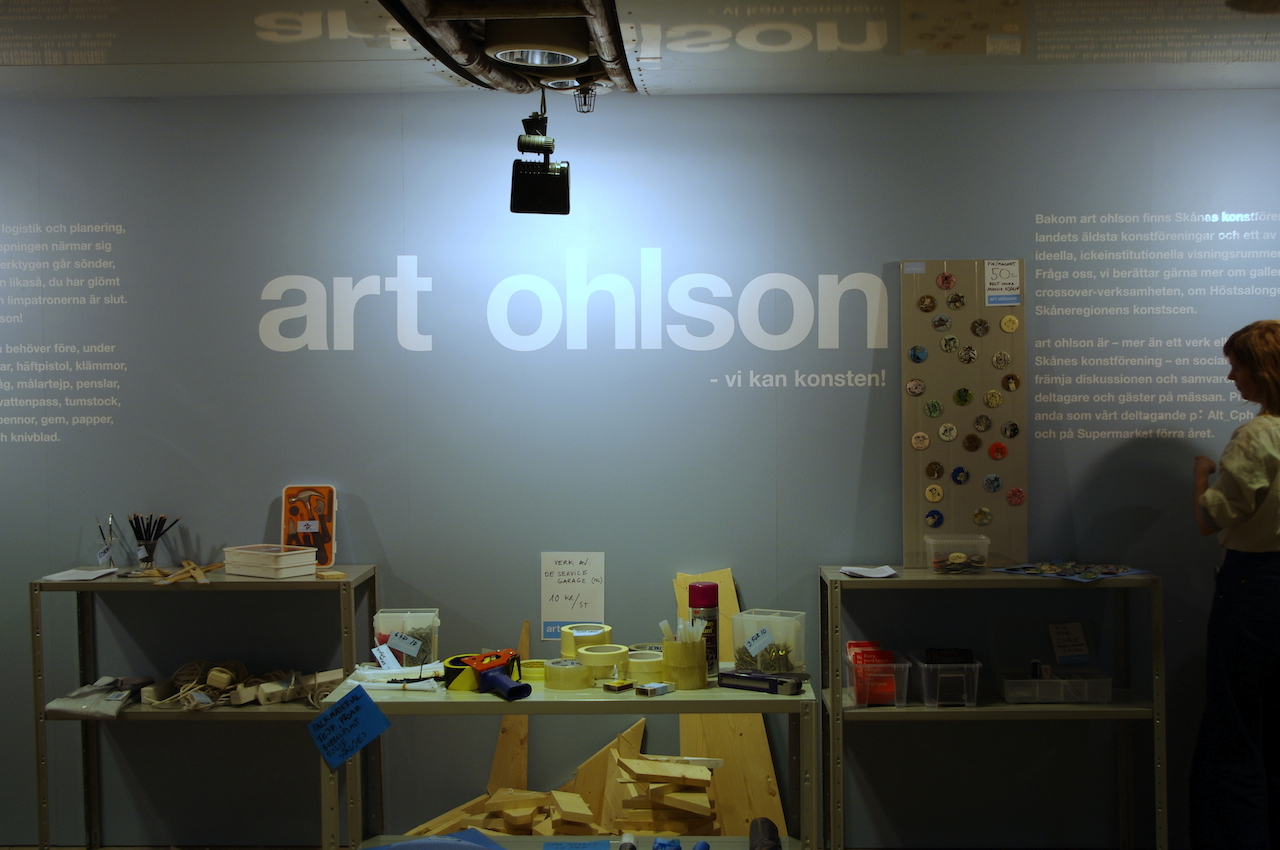 18/2 – 20/2 2011 Kulturhuset Stockholm
supermarket the international artist-run art fair in stockholm
Alla som någon gång deltagit i en konstmässa vet hur mycket arbete det är, hur mycket logistik och planering som krävs och hur kaotiskt det ändå kan bli. Öppningsdagen närmar sig och inget ligger på sin plats. Saker går sönder, sladdar försvinner, målartejpen likaså, du har glömt ta med vattenpasset och limpatronerna är slut. Du behöver helt enkelt lite av varje. Därför presenterar Skånes konstförening: Art Ohlson!
I vår monter kommer vi ha allt vad våra medutställare kan ha behov av för utrustning under monteringen, och även under mässans gång; skarvsladdar, häft- pistol, klämmor, limpatroner, sticksåg, sirkelsåg, målartejp, penslar, rollers, trälim, sandpapper, vattenpass, tumstock, skruvdragare, skruvar, spik, batterier, pennor, gem, skrivare, papper och knivblad.
Eventet Art Ohlson är – mer än ett verk eller presentation av Skånes konstförenings verksamhet – en social tillställning för att främja samvaron och diskussionerna med kollegorna, deltagarna och gästerna på mässan. Detta sker i samma anda som vårt deltagande på Alt_Cph i Köpenhamn och även vårt deltagande på Supermarket förra året.
För mer information:
Art Ohlson
– – –
Everyone that has ever participated in an art fair knows how much work it takes, all the logistics and planning nedded and that chaos will still prevail. When the day of the opening draws nearer nothing seems to be where it should. Things break, cords go missing, the painting tape just the same and of course you've left the spirit level at home. In other words, you need a little bit of everything. That's why Skånes konstförening presents Art Ohlson!
Our stand at the fair will consist of  all the equipment possible that our fellow participants might need during the mounting and during the fair; extention cords, light bulbs, clamps, glue sticks, tape, rollers,  paint brushes, spirit level, nails, batteries, pencils, printer, paper, knifes, screwdrivers. Just say what you need!
The Art Ohlson event  is more than just a piece or a presentation of the works of Skånes konstförenings – it is a social and interactive happening to promote the interaction with the other coleagues, the participants and the guests at the art fair.
The Art Ohlson event will follow in the same spirit as Skånes konstförenings participation at Alt_Cph art fair in Copenhagen and also our participation in Supermarket last year.
For further information:
Art Ohlson